PARANORMAL PEST PATROL
Los Angeles, CA (September 30, 2020) — Paranormal Pest Patrol is a hilarious family-friendly puzzle game built exclusively for free-roam VR venues, where you and your team play as a motley crew of Paranormal Exterminators. SynthesisVR in collaboration with Secret Location is excited to bring Paranormal Pest Patrol to all its VR entertainment locations around the world with this global launch. Locations that do not use SynthesisVR can now easily license the game as well with the SynthesisVR subscription free plan.
Led by the brash Bill Bashley, your squad takes on an infestation of mischievous demons that have possessed a little old granny's home.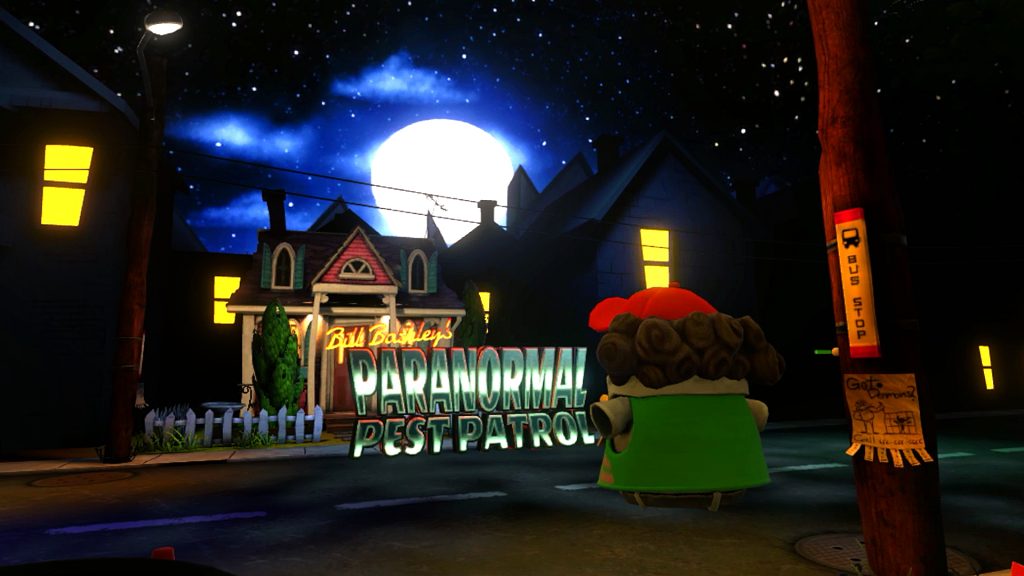 Flying books, a talking fridge; players must use observation and wits to foil the paranormal pests hijinks and send them packing in this unique and hilarious escape room style game. Paranormal Pest Patrol adds a comedic twist to escape room-like puzzles that will entertain families and friends of all ages.
"We are pumped to collaborate with Secret Location in bringing Blasters of The Universe: Infinity Forever and Paranormal Pest Patrol to VR locations worldwide, Given the current pandemic situation, free-roam VR is a great way to increase ROI in a safe and fun way. Secret Location has time and time again produced amazing VR content and we believe these two free-roam games will help businesses in bringing customers back, albeit with safety in mind." – Synthesis VR
Why Free Roam in Virtual Reality?
Free Roam is a wireless virtual reality experience that increases the sense of immersiveness and reality in virtual reality for the players by interacting with gaming elements in a much more physical and realistic manner. Players can now walk, dodge, weave within the game using real physical movement instead of controllers. Free Roam in VR also increases the number of players within a small space increasing ROI for entertainment locations, making it the perfect entertainment for Location Based Virtual Reality Businesses.
Why Synthesis VR?
SynthesisVR is a worldwide leading Location Based Entertainment Management Platform used by hundreds of VR arcades around the world. We increase arcade management efficiency, increase customer retention, make multiplayer hosting easy and seamless for operators, allow for business scalability, offer video recording & streaming capabilities, and deliver an awesome customer experience with our game launcher and management software. With SynthesisVR you can offer the latest Free Roam games like PARANORMAL PEST PATROL using your existing setup. No more expensive setups or exorbitant licenses to pay.
Secret Location
Secret Location is an award-winning content creator and distributor for premium immersive experiences. The studio has been developing and distributing content on emerging platforms for more than 10 years with over 250 awards and nominations for the team's work, including winning the first Primetime Emmy Award for a VR project. Most recently, the studio's first virtual reality film "The Great C" was the winner of the Positron Visionary Award at the 2020 Cannes XR film festival.
Founded in 2008 and acquired by global independent studio Entertainment One (eOne) in 2016, Secret Location is reshaping the virtual reality industry by combining cutting edge technology with traditional storytelling to deliver powerful experiences to audiences in any environment.
For more details please contact us at info@synthesisvr.com or visit our PARANORMAL PEST PATROL GAME PAGE.