SYNTHESIS VR INTRODUCES DEMO MODE
DEMO MODE – NOW THERE IS AN EASY WAY
Los Angeles, CA (October 06, 2020) — Synthesis VR is very happy to introduce DEMO MODE. An easy way for locations to give demos on a certain station(s) instead of having to create or sell reservations and launch games.
The DEMO MODE can be activated for individual experiences giving locations great flexibility and the ability to control which games to offer during DEMO MODE.
DEMO MODE is currently available on Beta, update Synthesis VR Access Point app using the updater app on Beta Mode.
Setting up DEMO MODE
First make sure which Experience you want to activate DEMO MODE.
Go to Administration – Arcade Setup – Experience Types
Enable Demo Mode
Refresh Access Point on the Gaming Station to activate Demo Mode
On your Access Point – Settings – System – A New DEMO MODE button will appear.
Click that and Enable DEMO MODE as shown below.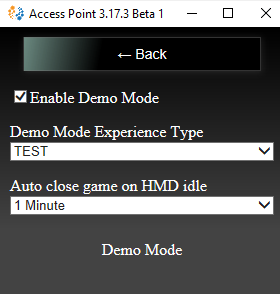 The in HMD Game Menu will always appear during DEMO MODE work hour rules. This way you can have different games during different times for demo purposes.
If the VR Headset is inactive for a certain period of time (Based on your setting) it will go into idle mode.
Why Synthesis VR?
SynthesisVR is a worldwide leading Location Based Entertainment Management Platform used by hundreds of VR arcades around the world. We increase arcade management efficiency, increase customer retention, make multiplayer hosting easy and seamless for operators, allow for business scalability, offer video recording & streaming capabilities, and deliver an awesome customer experience with our game launcher and management software. With Synthesis VR you can offer a plethora of various experiences and customize your location according to anyway you would prefer. SynthesisVR offers many customizations and robust features to take your location to the next level.
For more details please contact us at info@synthesisvr.com