Demo/Kiosk Mode
In the Demo/Kiosk Mode, SynthesisVR can be running during set Business Hours/Work Rules as able to launch games without the need to start a new session. This does not need any special Experience Types or extra Work Rules to be set up, but a few things need to be done. Note that Demo/Kiosk Mode is only available in SynthesisVR version 3.17.3 or newer and only for the SynthesisVR Pro or Pro+ subscriptions.

In one of your Experience Types (info on Experience Types can be found here: https://synthesisvr.com/knowledge-base/experience-types/), you will need to set the "Allow Running in Demo Mode" to Yes. Note this makes no changes directly to the Experience Type and so could be turned on for all Experience Types if you'd like.
Be sure that the Experience Type you are using has Business Hours/Work Rules set up for it for the hours/times/days you want this to run. You can find out more information on setting up Business Hours/Work Rules here: https://synthesisvr.com/knowledge-base/work-hours-by-duration/
Once your Business Hours/Work Rules are set and the Experience Type is set to Allow Demo Mode, be sure to refresh your Access Point using any of the refresh methods. Once refreshed and if you click on Settings followed by System in the Access Point up, scrolling down will reveal a new "Demo Mode" button.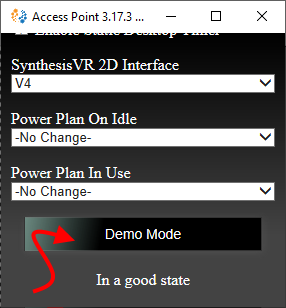 When you click on Demo Mode you will be able to choose which Experience Type you want to use for the Demo/Kiosk Mode. If you have several, choose the one you want to use at the moment.
Below the Demo Mode Experience Type is the Auto Close Game on HMD Idle which can be set anywhere from 1-10 minutes, 15 minutes, 30 minutes and an hour. This would allow you to control any situations where someone puts down the headset and a game continues to run, preventing any unnecessary licensing costs.
Once you've set both the Demo Mode Experience Type and the Auto Close Game on HMD Idle all you now need to do is check the box to Enable Demo Mode. Demo/Kiosk Mode will begin immediately and make available games assigned to the Business Hour/Work Rule you've set.
When customers put on the headset, they will be able to see the games and/or categories (if you have multiple game categories assigned to the Business Hour/Work Rule. They can then select items as they would in a normal session, launch games, change games, etc.
To turn off the Demo/Kiosk Mode, simple go back to Settings >> System >> Demo Mode and the uncheck the Enable Demo Mode and you'll be back to normal on that station.
Additionally, while Demo/Kiosk Mode is enabled, you are still able to have the Idle Playback running when a game isn't active. You can find more information on Idle Playback here: https://synthesisvr.com/knowledge-base/understanding-idle-playback-troubleshooting/