Rotten Apple – Now Available
Embark on the ultimate undead showdown in Rotten Apple, a nail-biting, VR zombie shooter experience! You and your friends will be face-to-face with the apocalypse. This immersive co-op adventure, meticulously crafted for virtual reality, invites you and up to three friends to plunge deep into the treacherous Quarantine Zone and rewrite the fate of a missing research team.
Discover Rotten Apple's innovative virtual reality gameplay mechanics and state-of-the-art graphics that transport you into a post-apocalyptic New York City like never before.
Thrilling Co-Op Story: Unite with your squad and navigate the harrowing Quarantine Zone in Rotten Apple's gripping co-op narrative while serving as a tutorial for the more advanced mechanics.
Intense Puzzles: Can your team withstand the pressure? Keep a vigilant eye on your comrades' backs as you solve high-stakes challenges in a ravaged New York City.
Wave Mode: Stand together and confront the relentless zombie horde in the adrenaline-fueled Wave Mode. Experience fresh enemies, maps, weapons, and power-ups, and prove your worth on the global leaderboard.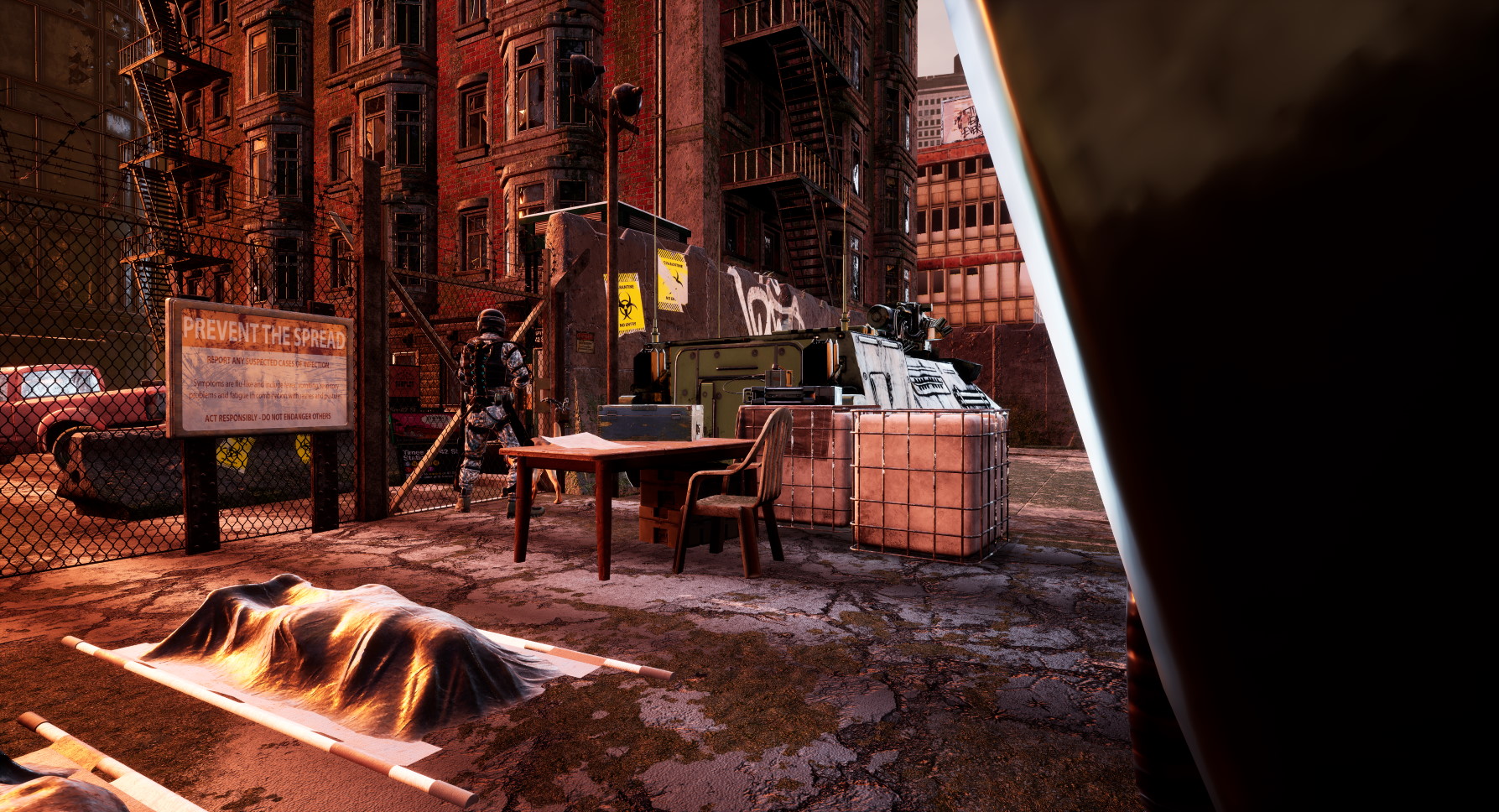 Rotten Apple is a hit at VR Arcades! License it today.
Arcade Owners and customers alike can't get enough of this game! It is fun to play and sure to be a hit at your arcade! You can obtain a commercial license for Rotten Apple through Synthesis VR. Check in out here: Rotten Apple – Synthesis VR Content Library
Want to license other games at your VR venue? We have hundreds of games to choose from in the Synthesis VR Content Library.
Multiplayer Optimized with Synthesis VR
You'll find that Rotten Apple is very easy to use at your arcade. That's because it is Synthesis VR Optimized for one-click multiplayer. That means that as soon as a party of four walks in to your VR venue, they are already playing together in the same game lobby as soon as they have the headsets on.
What is One-Click Multiplayer?
From our own experience and talking to hundreds of locations, one of the most difficult aspects of running a VR arcade is joining players together in the same game. An operator has to run from station to station and make sure the players are all in the same game, with Synthesis VR One Click Multiplayer setup, the operator can pass player names, choose the desired game mode, choose different player avatars, game duration, and various other options and with a click of a button, enjoin all the players into the same game like magic.
Synthesis VR – The Ultimate Platform for Location Based VR Entertainment
Synthesis VR is a VR Location Management and Content Licensing platform that was created by VR arcade owners for like-minded entrepreneurs. Are you looking to open and operate a VR location? Look no further! Learn more about Synthesis VR.