A fun shooter just right for VR Arcades!
Los Angeles – Jule, 2020
SynthesisVR is proud to announce the successful addition of Dick Wilde 1 and Dick Wilde 2 into its content store. Virtual Reality locations need cool and exciting experiences to attract customers and to retain players. Dick Wilde and Dick Wilde 2 provide a fun, shoot em experience with CO-OP and Player vs Player experience that will get everyone excited and raring to go. Most players have difficulty playing games in virtual reality due to the complicated setup, keys and high learning curve, but in Dick Wilde and Dick Wilde 2, you just pick up your guns and start shooting.  Creating an action packed but hilarious experience and highly addictive gameplay for the whole family and friends.
A toxic outbreak has been unleashed, mutating the local wildlife! Pair up with your friends and take on the deadly ooze and its disgusting dwellers. Clear the swamp lands with super-powered weapons – from physics-defying beam guns to homemade revolvers. Hold on tight, this ride's about to get bumpy!.
Play with a friend
Dick Wilde 2 is always more fun with a friend. Team up with your buddy over network co-operative play and take down the source of the toxic outbreak!
New Epic Bosses
Face off against new enemies on a gargantuan scale, including vicious piranhas, manic moles and even a giant enemy crab!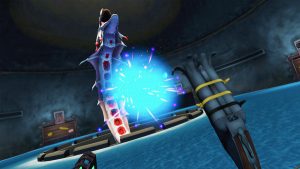 For more information on licensing and pricing click Dick Wilde and Dick WIlde 2.
SynthesisVR is a premium management and content licensing platform for virtual reality locations. Use SynthesisVR to create a more efficient business model. Please visit our features page for more information.