SynthesisVR Proxy Troubleshooting
How to troubleshoot the SynthesisVR Proxy?
1) Access the "Run" prompt by press the Windows key + R

2) Type: services.msc

3) Scroll down the list until you find SynthesisVR – Proxy


4) If the service is not running, click on the "Start" option on the left side (or the Restart button). You should see the following popup: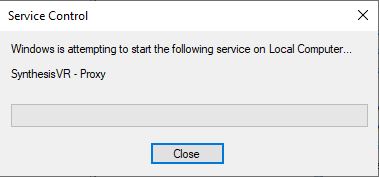 When the popup disappears, the service status should be changed to "Running".

5) If the status remains empty (meaning – not running) or you don't have permission to start the service, you could simply restart the computer. By default, SynthesisVRMainService is configured to start automatically along with Windows.

6) If SynthesisVR – Proxy still isn't starting, please reach to us at info@synthesisvr.com