VIVE Console VIVE PRO 2 Issues
If you are using one of the newer VIVE Headsets with vive console software, the vive console goes offline due to battery changes or other related issues. This might lead to SteamVR quitting and restarting with errors. Vive console tries to restart SteamVR and if you have SynthesisVR on, this will also try to restart Steamvr which could lead to errors.
Due to this we recommend disabling SteamVR auto start on SynthesisVR. To do this:
On the SynthesisVR Access Point App, Click Settings – SteamVR Settings – Check the Disable SteamVR Auto Start Box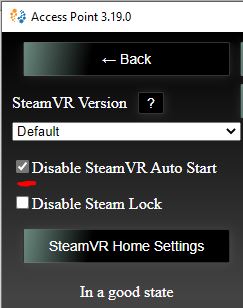 Click Back and Refresh the App and this should prevent SynthesisVR from auto starting SteamVR.
Once you connect the battery please follow this order to get VIVE PRO 2 working with SteamVR
Make sure the VIVE Adapter software is running and Headset is paired and connected
Restart VIVE CONSOLE software and once this comes online it will auto start SteamVR