Local Manager – How To Manage Games & Content on Your Device or Station
Bookmark or Add Certain Games or Content to Favorites
Games that are bookmarked will be shown on the top as seen below for easy access. This is a convenient way for operators to quickly launch a game that is popular at the VR location.
The Local Manager also provides an easy way for operators to manage their games and VR content by providing a convenient way for operators to see which devices or stations have the games installed, need update or easy way to uninstall games etc.
Method 1: Advanced Game Settings
Once a game is selected, click the Gear button for additional game or content related settings.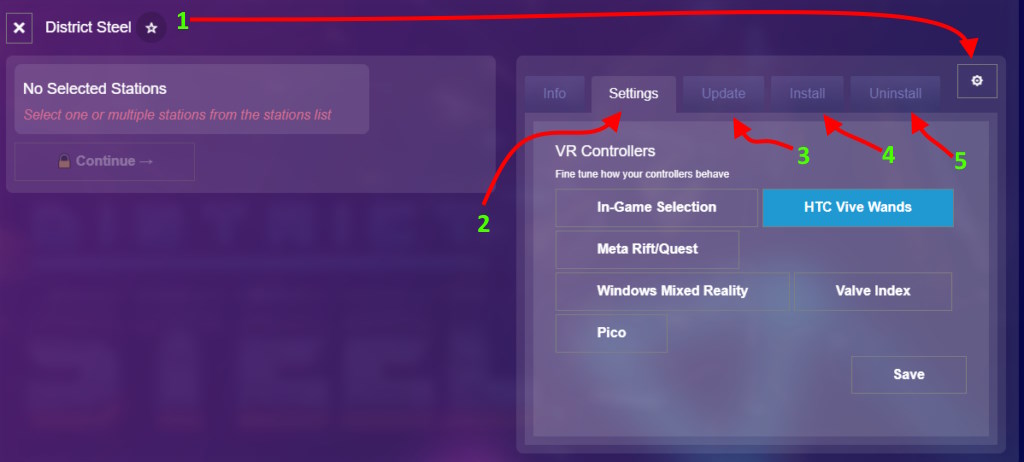 Clicking the Gear Button will reveal more tabs. Certain options are available only if the game supports these options.
After selecting a game, you have the option to configure your VR controllers according to your preferences, customizing their behavior within the game.
If there are pending game updates, easily update the game on multiple devices using the Local Manager.
Install the game if there are certain stations missing the game.
Uninstall the game if you do not need it on a certain device.
Update, Install and Uninstall Games
The "Install" tab displays all available stations where the game can be installed. Conversely, the "Uninstall" tab provides information about where the game is currently installed and allows you to remove it from those stations if needed.
Method 2: Managing your games through your Device or Station
Click on the "Gear" icon on the right side of the stations. This is applicable for PCVR and Standalone Headsets as well.
After selecting the station, click the "Content & Apps" tab on the right to view and choose from the currently installed games and content.
Clicking on any game or content will give you the options mentioned in Method 1 above.
Manage the Gaming Server or Host PC
To assign games requiring a server, access the standalone server's settings, and navigate to "Content & Apps."
You can assign and unassign the games requiring a game server from here.