Introduction
In the whimsical world of Battle Bows, a fierce battle unfolds as the enigmatic land of Inflatium sends forth armies of living, breathing balloons to invade your realm. Born from the very essence of Inflatium, these zany balloons are not your average party decorations; they are here to challenge your mettle. Equipped with your trusty bow, you must rise to the occasion, choose your elemental power, and become the last line of defense for your realm. Welcome to a VR experience like no other, where you'll engage in epic balloon-bursting battles, strategize with your team, and aim for MVP glory. Let's dive into this enchanting adventure that awaits PCVR gamers in Battle Bows!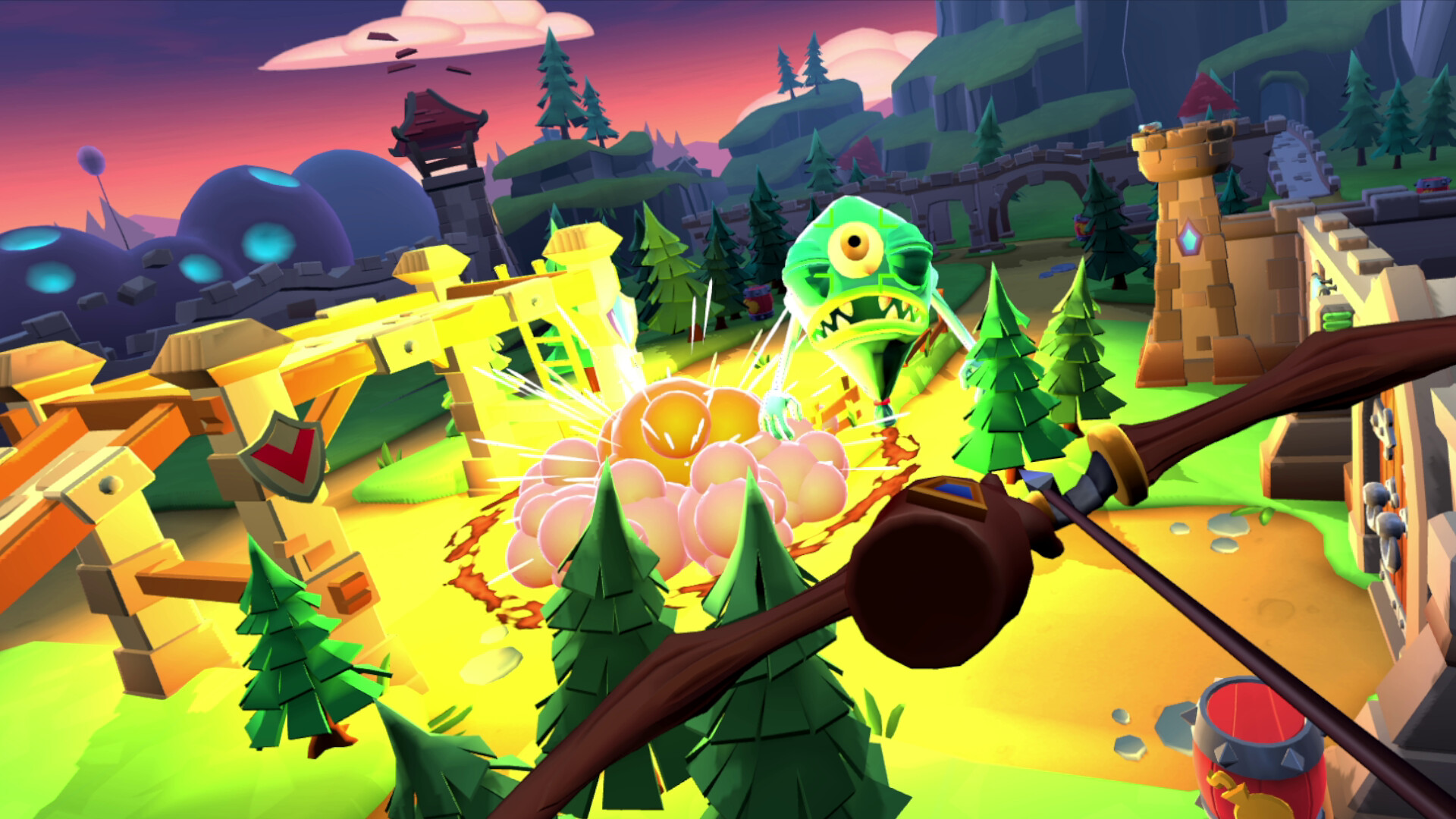 The Inflatium Invasion:
In this fantastical realm, Inflatium is the life force, but its overuse has left them desperate for more. Scouts from Inflatium have located pockets of this vital resource in your realm, and their armies are flooding in to claim it. Alongside them, they've unleashed an array of creatures whose evolution has taken an unexpected and perilous turn. Your mission? Protect your realm's Inflatium from these zany invaders and ensure the survival of your world!
Gameplay – Archers Assemble:
As a brave archer, you're at the forefront of the battle. Armed with your bow and arrow, you must select your elemental power and ascend to your castle tower. From there, rain down magical arrows upon the enemy. The game encourages players to strategize with their team to face increasingly challenging enemy waves, including formidable giant bosses. The battlefield is filled with explosive barrels and traps that can be used against speedy, sneaky, and even flying balloons.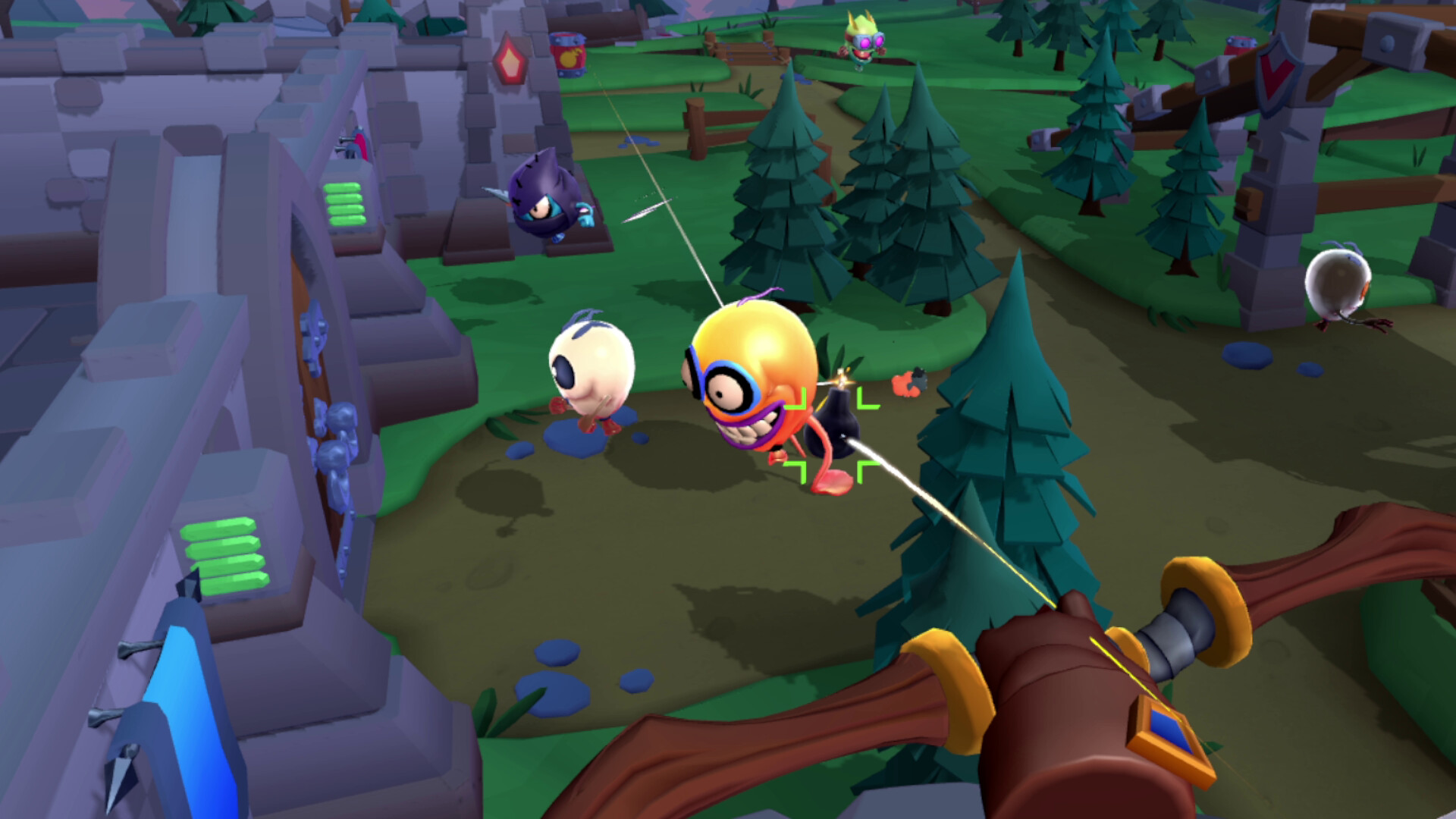 Compete for MVP Glory:
Battle Bows isn't just about surviving; it's about thriving! Test your accuracy and aim by targeting bonus skill objectives in each game, maximizing your score, and striving to earn the coveted MVP crown. With every shot you take, you inch closer to your rightful place atop the seasonal leaderboards, leaving your mark in the Battle Bows community.
Diverse Game Modes:
Battle Bows offers a range of gameplay options to cater to all types of adventurers:
Solo Mode: Embark on your own quest to defend your realm, perfect your archery skills, and conquer increasingly challenging levels.
Quickplay Co-op: Join forces with other archers in a fast-paced cooperative mode. Teamwork is key as you unite against the inflatable invaders.
Private Party Games: For those looking to host a more intimate gaming experience, private party games let you set the rules and invite your friends.
Multiple Difficulty Levels: Choose your level of challenge with three difficulty settings, ensuring a thrilling experience for both newcomers and seasoned archers.
Endless Mode: The fun never ends in Battle Bows' endless mode, where you can test your limits and aim for the highest scores.
Battle Bows is Powered by Synthesis VR
Synthesis VR stands as the most powerful tool for your VR Arcade. With its comprehensive suite of features, it empowers you to take complete control of your business operations. Whether it's managing VR devices, offering an extensive game library, enhancing customer experiences, simplifying billing, streamlining reservations, or providing insightful analytics, Synthesis VR is your key to VR arcade success. Harness its capabilities and watch your VR arcade thrive like never before.
Conclusion
Battle Bows for PCVR is a one-of-a-kind gaming experience that takes you on a fantastic journey to protect your realm's Inflatium from an invasion of living balloons. With its captivating gameplay, diverse modes, and a competitive edge, this game offers endless fun and replayability. Get ready to immerse yourself in an adventure that combines strategy, precision, and a touch of whimsy. Are you up for the challenge? Unleash your inner archer and claim your place in the Battle Bows realm today!